Cave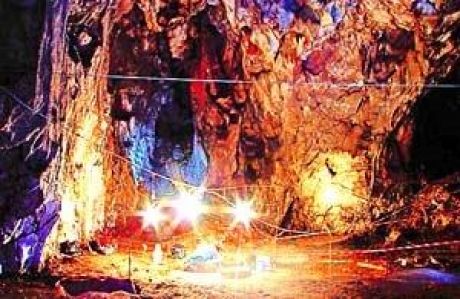 Cave
Cave In Pozar Baths area is a large complex of 16 caves, a pedestal 50 meters. and many spilaiokatafygia.
They formed thousands of years ago, when the water level was at the entrances of caves, before even
formed the plain of Aridea. Systematic excavations and explorations of caves unearthed abundant
evidence that the indigenous population.
Findings There is evidence for the life of primitive man from tools and other objects that testify that the spaces of caves used by the Neolithic or even Paleolithic era. Important findings have been found, among them, a human skeleton of unknown age, part fossilized skull Brown Bear URSUS CT. ARCTOS age 10,000 years. The cave bear ... was in its best phase and passed other 30,000 years
one that disappeared before 10,000 years- in an ideal environment for this Arkoudospilia, a major with paleontological interest.
The cave
For 16 years, the Aristotle University of Thessaloniki conducts paleontological excavation under the guidance
the paleontologist, Assistant Professor, Evangelia Tsoukalas. Findings fossils and 15,000 in number, have
discovered after scientific research in six of 20 caves, which are currently explored in several
depths, into the cave. The majority of these come from the brown bears of the caves that they found an ideal environment
for their subsistence and reproduction. Teeth and bones are mostly samples the existence of
URSUS CT. ARCTOS. Also found bone of leopard, hyena and fox. Many of the caves have not yet
explored. The findings confirm the existence of wildlife and flora with traces of seeds. From the caves of the Baths kept in Paleontological - physiographic Folklore Museum Almopia.